Have you just renovated your house or built a new one? Congratulations! You have achieved a big milestone in life. But this calls for a post-construction cleaning to rid yourself of all the dust and debris around.
Even if you just have gotten a room or even a bathroom rebuilt, you might have noticed that the clutter is spread throughout the house or the office space. As unpleasant as it is to look at, it is also extremely unhealthy for you to live in such an environment.
What Is Post-Construction Cleaning?
After spending hundreds of dollars on renovations or the rebuilding of your space, you would want to look at the complete look. This is only possible if your space is cleaned properly after the work is done. Most construction contracts do not include a post-construction cleaning making it a headache to do so. This cleaning can be done in several parts, it might sound exhausting but it is easier this way.
Let's look into each phase and what's included in post-construction cleaning. And what each stage cleans up for you!
Phases of Post-Construction Cleanup
Cleaning it all in one go is not possible. It can be extremely exhausting and tiring for you. Usually, post-construction cleaning is divided into three phases; rough clean, light clean, and deep clean. But for your ease, we have divided it into four phases, read along to find out the last one!
Rough Clean
As soon as the construction team is out of the house, and wind up their work, you should get started with the rough clean. As the name suggests, a rough clean is to just remove the clutter and dirt that meets the eye in the main areas i.e., lounge, living room, garage. Start with:
Construction Material
Removing the remaining construction material that you no longer need, or the paint empty paint tubs the painting team left in the garage.
Windows and Doors
Use a duster to remove dust from all the windows and doors, also remove the stickers from them at this stage. This will ease the later process of washing and vacuuming.
Walls and Flooring
Washing off the walls and the flooring to remove all the cement and dust stored within.
Stains and Spots
Before cleaning the walls and floors, you must remove all the stains of paint or any other material used in the construction process. This might be a difficult job as the stains have been sitting there for a while.
Light Clean
Once you've removed all the chaotic clutter that was affecting the pathway, now it's time for the light to clean. This phase is not light at all, requires the most effort and energy as it goes into the minor details you might have thought weren't important. If you have built a new space, or even renovated the old one, this post-construction cleaning phase is essential for both. Wondering what it includes? Here it is;
Kitchen
Kitchen cleaning is one of the most important steps. Even if your kitchen wasn't under construction there is no doubt it won't be dirty.
Start by removing all the unwanted material, cleaning all the cabinets to remove the dust particles and then washing off the dishes and other cutlery.
Make sure you do this very carefully, digesting any dust or debris could be hazardous to your health.
Restrooms
Next up should be the restrooms. Clean all your cupboards in there and wash off all the debris in there and make sure it is clean before you use it yourself.
Dress Rooms
Wash all the clothes that you used during the time of construction and clean all your dressing room cupboards too. You may think there won't be any dust in there, we are sure you'll be surprised!
Upholstery
If you have installed new windows, upholstery or any other equipment, this is the right time to wipe them up.
Deep Clean
You might be thinking that you've covered up all the parts of your property in the first two phases, and why should you go for the deep clean? Well, the answer is yes and no both. Let us explain how. While you perform your rough and light clean, the dust tends to travel from one spot to another, and not leaning the space.
Performing a deep clean is the most essential step of the post-construction cleanup spree. This can take up to five days depending on your space. It includes;
Dust and Wipe
Cleaning all the shades and bulbs is just a task. Dust them, or if they are removable, wash them up, let them dry, and place them back.
Clean your glass doors, mirrors, décor items, and shelves.
Vacuuming
Vacuuming the sofas, couches, and carpets. Do the carpets, in the end, to remove all the dust from the furniture drops off.
Mopping and Polishing
Once your carpet is all clean, and if you don't have them, wash off your floors. If you have a marble floor, we suggest you polish the floor too.
Ventilating Systems
Cleaning your ventilator systems is also a part of the deep cleaning phase. The air ducts can be filled with construction debris, it is very important to clean them because they might move into your cooling or heating system.
Now that you are done with most of the post-construction cleaning, we have one additional step for you that will make your house look brand new! By far this has to be the best phase in the cleanup.
Final Clean
Final cleaning is just the touch-up step before you move into your space. Even though you have covered everything, just look around with a professional eye. The smudges, fingerprints, and spots might have been left for cleaning. Touching upon almost everything you have already cleaned in the previous phases.
We suggest you take a damp microfiber cloth and wipe off all the window ceilings, shelves, sofas, and other furniture you have. Change your bed covers and make the space all set for you to move in.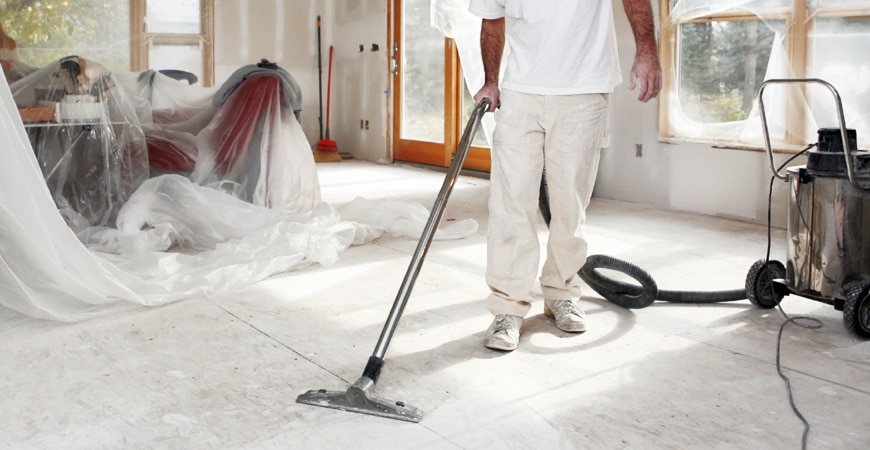 Exterior Clean
You might have noticed that the above post-construction cleanup phases only focused on the interior of the house. Well, that is because we saved the exterior for later.
Even if the construction was held inside the house, keeping the exterior clean is inevitable. Everyone involved in the construction team enters and exits using the pavement, bounding it to get those cement stains or paint droplets. The labor working day and night to renovate your space will also need some space to sit or relax, and the most common space for that is the driveway.
Start with removing any trash that was left by the construction team.

Clean all the windows and doors from the outside, dusting all the chairs and benches if you have any.

Next on your list should be the washing of the driveway and the garage. Depending on the base used; marble, ceramic tiles, or cemented floor, clean them accordingly.

Gently scrub the floor to remove any blemishes.

If the stains or spots are still visible, getting the floor waxed and buffed could be an option.
This exterior cleaning enhances the look of your property and gives it a completely new look regardless of the work done inside only.
What Will You Need?
Performing the cleanup, yourself can be extremely tiring and exhausting. As labor-intensive as it sounds, it is also very extensive. Having all the required equipment arranged is also a task. We have prepared a list for you to check if you have all the supplies or not.
Vacuums

Brooms

Carpet cleaners

Mops

Scrubbers

Brushes for gentle scrubbing

Microfiber cloth

Trash bags

Cleaning solution

Ladders

Wax and polish
If you have these products at home, then that is great, you can now get started with your cleaning phases. But if not, we have a better solution for you. You don't construct or renovate your house every year, so why spend so much on cleaning and dusting equipment when you can get it cleaned professionally?
Yes, you can get your post-construction cleaning from the My Cleaning Angel at the most affordable rates in the market. We offer our services for all the phases of the post construction cleaning, from the rough touch to the final touching.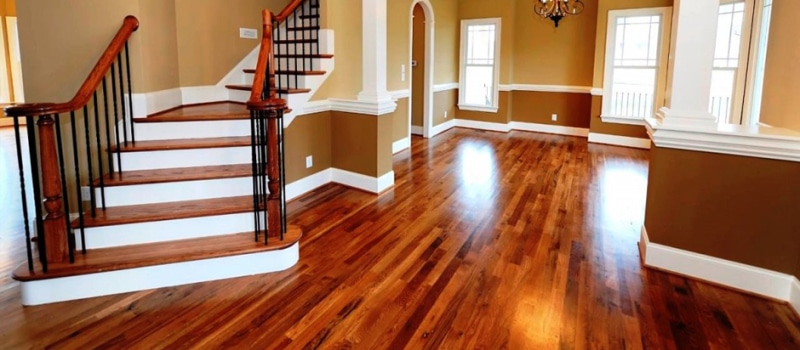 Why Need A Professional Team?
If you are still in doubt, here's how hiring us is a better choice.
We have a big team that can cover up this labor-intensive cleaning process and finish it in very little time and one go.

Having all the professional and high-quality cleaning equipment your house will look brand new.

From the interior to the exterior, our team consists of cleaning experts that cover all parts of your house. You will not be needing any more cleaning sprees after our team hands over your space to you.
Call us now and book our cleaning team to cover your post-construction cleaning before you move into your new space! Or book cleaning services online, it's easy, fast and simple.