Fall is here, and now it is finally time to start wearing cozy sweaters and scarves while sipping hot chocolate by the fire. But wait! You can't just leave your home looking like a mess from all the summer shenanigans and expect to host a snugly evening with your friends.
In this guide, we will walk you through the essentials of deep cleaning your house and making it a welcoming and comforting space for you to enjoy the fall season and host a lot of cozy parties and get-together!
Key Takeaways
Preparation is essential: stock up on necessary supplies and create a workable schedule.

Begin on the outside and work your way in.

Outdoor furniture should be cleaned and stored/covered.

Wash downspouts, driveways, walls, chimneys, roofs, and windows.

Gardening should be done in accordance with the climate.

Replace or repair items such as burned-out lightbulbs, frayed wires, and damaged window screens.

Begin interior cleaning by cleaning each room thoroughly.

Deep cleaning entails meticulous dusting, vacuuming, and washing.

Ensure that the ceiling, electronics, blinds, and vents are all clean.

Clean the kitchen appliances, replace expired products, and thoroughly clean all cabinets.

Reorganize your wardrobe, clean air conditioners, replace filters, and clear your desks and dressers in the bedroom.

Refill your supplies in the bathroom and clean everything with a bathroom and toilet cleaner.

Set up a maintenance schedule to keep your house in good condition and prevent dirt and dust from accumulating.
Getting Started
Before commencing any cleaning, you must ensure you are well-equipped with adequate tools and cleaning supplies. Without proper cleaning supplies, getting the desired results will not be possible. Here are some things to get to start ticking off on your fall cleaning checklist.
Cleaning Supplies and Tools
Glass cleaner

Disinfectant wipes or spray

Broom and dustpan

Mop and bucket

A vacuum cleaner with attachments

Dusting cloths or microfiber towels

Trash bags

Furniture pads or coasters (for protection)

Scrub brushes

Grout brush

Toothbrush

Oven cleaner

Carpet cleaner
Personal Protective Gear
Disposable gloves

Dust mask (especially if you have allergies)

Safety goggles (when handling chemicals)

Apron or cleaning smock to protect clothing

Closed-toe shoes with good grip (for safety)

Earplugs or noise-canceling headphones (if you are using noisy cleaning equipment)
Replacement Supplies
Light bulbs (to replace any burned-out lights)

Batteries (for smoke detectors and other devices)

HVAC filters
Miscellaneous
Tools (screwdrivers, wrenches, hammers, etc.) for minor repairs

Ladder for reaching higher areas

Trash Containers

Storage Boxes for items to be stowed away for the season (or items to be given away)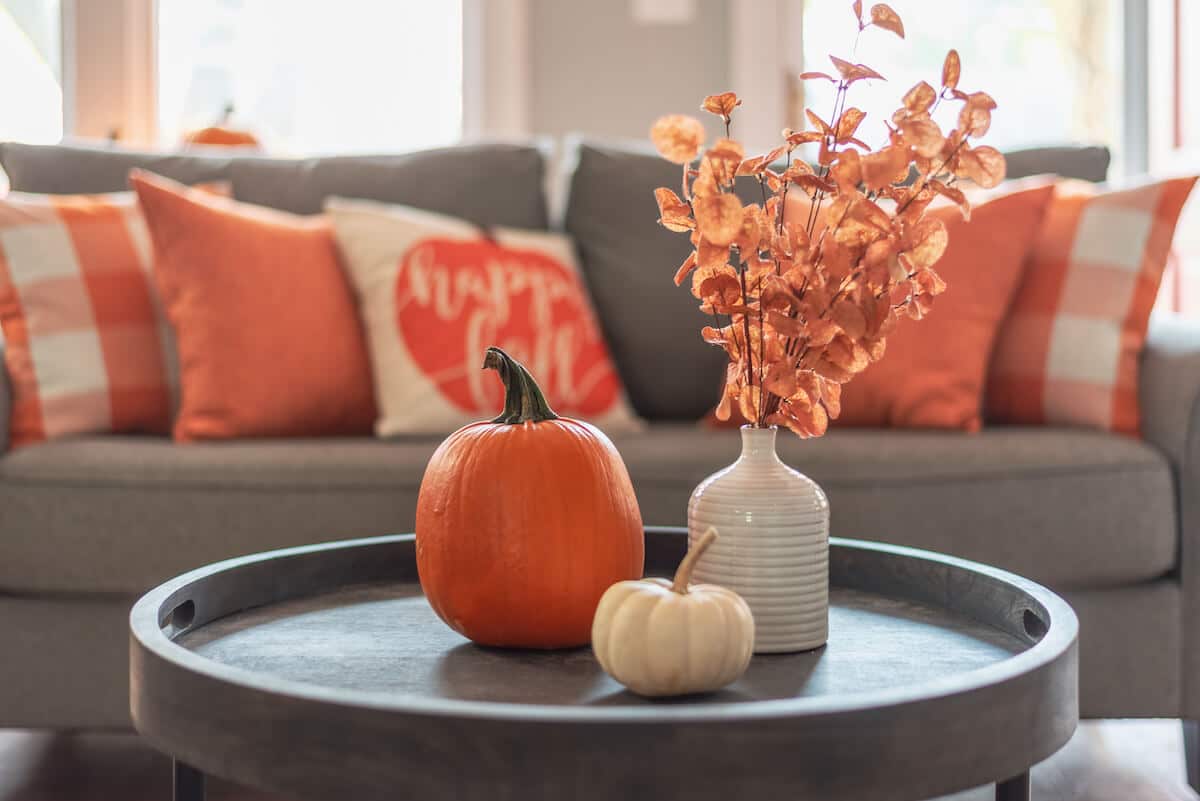 Start From the Exterior
The fall season can be unpredictable and the cold weather can knock on your doorstep anytime. Therefore, it is best to start from the exterior of your home while the weather outside is still mild and then move your way inside. Plus, since it will be quite cold outside, preparing your yard for the temperature drop is better. Here is your exterior fall cleaning checklist:
Drain Your Gutters and Downspouts
Empty your gutters and downspouts of any debris, leaves, or dirt. The winter would lock them in, so get rid of every last bit of gunk. Once you are done, run water through them and investigate for any leaks or damages to the pipes. You can use a plumbing snake along with a garden trowel for this. (Keep your rubber gloves on.)
Stow Away any Outdoor Furniture
With the waning warmth and sunshine, it is time to get your patio furniture and other outdoor items in your storeroom. This will help you avoid wear and tear. If you have insufficient storage space, remove items that can be easily marred like cushions.

Squeak your Windows Clean
Swipe any dirt or grime accumulated over the summer on your windows. Spray some window cleaner and wash scrape every inch with a squeegee. Inspect your window frames and screens for any damages. If your window has gotten loose, you can use weatherstripping to keep it intact. (You can't have chilly winds disrupting your house's warmth.)
Wash Down the Walls and Doors
Pay attention to your walls. It may not look like it, but if you look closely, you will see what the seasons put them through. Search for cracks, crevices, or paint peeling off. Address these issues respectively. Moreover, you should not waste your time scrubbing the walls. It will likely take forever. Instead, use a pressure washer on the exterior to remove the dirt.
Spic and Span your Roof and Chimney
This is the part where you need to exercise some caution. Ensure you have proper protective gear, like a hard hat, safety harness, and gloves. Next, make sure the ladder is sturdy and secure before climbing, and once you get to the top, try to keep your feet on the flat area.
Inspect your roof for any faulty shingles and replace them. Debris accumulates on the roof due to inaccessibility, so clean it. Follow the same procedure with your chimney.
Note: Due to the risks and dangers involved, it is best to leave tasks like these to professionals and hire house cleaning services. They'll do the job a thousand times better than you and won't put you under any harm.
Upkeep your Driveways / Walkways
Keeping your driveways free of debris is a task that'll get repetitive as winters kick in and snow collects over it. Thus, it'll be best to keep it in good condition so cleaning it doesn't become a daunting task in the winter.
Aside from repairing cracks or crevices, clean off all the moss/algae growing on it using a pressure washer/garden hose or a stiff bristle with a long arm.
Pests tend to burrow down during the fall into the cozy warmth of houses, so it's best to eliminate them before they cause a nuisance mid-season. This is quite the task for homeowners and while they can apply pesticides and seal their exterior, it's better to leave this up to pest control services.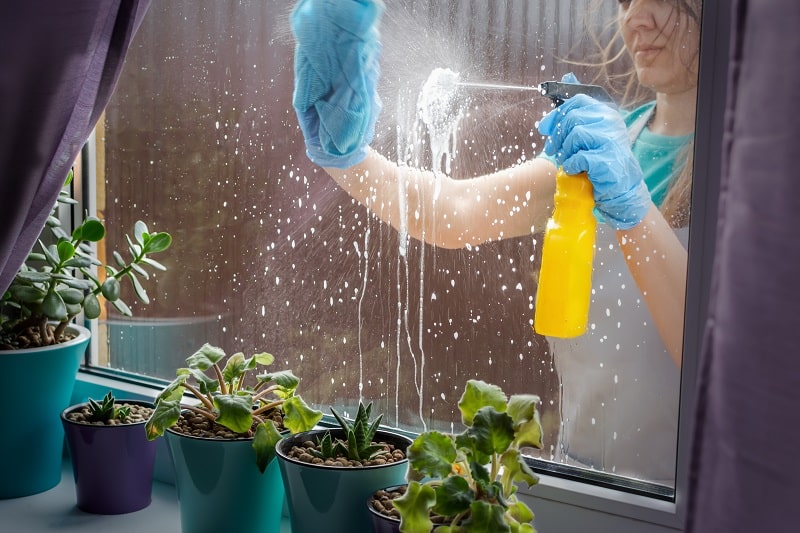 Starting with Interior Cleaning
Moving on to the inside of the house, you can work much more comfortably at your own pace.
It is best to start with a general deep cleaning of the entire house and then move to each part of the house and clean it according to its needs. Here is your indoor fall cleaning checklist:
General Deep Cleaning Of the House
Dusting, Vacuuming, and Washing
Start with getting off that layer of dust that's settled on all surfaces like shelves, countertops, and furniture, and use a vacuum cleaner to finish the job. Ensure you get every nook and cranny of the house, vacuuming your way through the floor, carpets, rugs, and upholstery.
You can use water to clean off anything left for the final furnishing. Depending on your floor, you can use whatever suits your house.
For hardwood, use a hardwood cleaner along with a microfiber mop.

For tiles, mix warm water with a tile and grout cleaner, or use a mixture of water and mild dish soap.

Use vinyl floor cleaners or mild dish soap for Vinyl floors, and mop thoroughly.
Washing Windows and Curtains
Clean your windows till you can see your reflection in them. Then, move on to the curtains/drapes as they often collect large amounts of dust.
Clean Ceiling Fans and Lights
Just like with the exterior, check your interior's lightning. Additionally, remember to clean ceiling fans as they tend to be untouched by our daily cleaning routine. Try using a microfiber duster with an extension handle to reach high places, or use a ladder (with caution).
Kitchen
In the kitchen, start with your appliances. Before beginning to clean appliances like the refrigerator and freezer, shut them down for a while till the ice melts down. Then start taking out all the shelves and drawers and scrub them clean. You will need to use a cleaning solution to bring out the original shine of your appliances.
You can use white vinegar, water, or baking soda to clean your fridge. If you'd like to disinfect, use rubbing alcohol or hydrogen peroxide to kill off any pathogens you want to eliminate. Similarly, you can try baking soda, vinegar, and dish soap to clean your oven. Use a scrubbing sponge or microfiber cloth to remove the debris.
Repeat the process with your stovetops, microwave, dishwasher, and other appliances. Check out our guide here for a step-by-step process on how to clean your kitchen.
Tidy Up Your Cabinets and Renew Supplies
Check your kitchen cabinets for expired products over the season and throw them away. Empty your cabinets and drawers; if necessary, give your cutlery a quick wash. Replace any old expired products with new ones.
Bed Rooms
Start by changing your mattress covers and rotate them for even wear. Before changing the covers, you can vacuum it as well. While there isn't anything specific you need to do, here is an overall checklist to see if you have done everything right:
Change bed linens

Organize your closet according to your winter clothes and packway summer clothes.

Dust and clean electronics like Air Conditioner and LEDs.

Clean under your bed. (Don't leave stuff underneath.)

Clear your desk, dresser, and nightstand.
Bathrooms
Give your bathroom a thorough cleaning and rub those tiles so they sparkle with a new look. Use a disinfectant and a suitable cleaner for your floor type. Also, clean your showers, taps, and sinks using a toothbrush.
Bathroom Checklist

Clean and disinfect bathroom surfaces

Clean your toilet using a toilet cleaner. (Make sure you clean the seat and base as well.)

Clean the shower and bathtub using a microfiber cloth

Clean bathroom mirrors using 1 part water and 1 part vinegar solution

Clean and reorganize bathroom cabinets

Replenish supplies (toothbrush, body wash, shampoos, razors)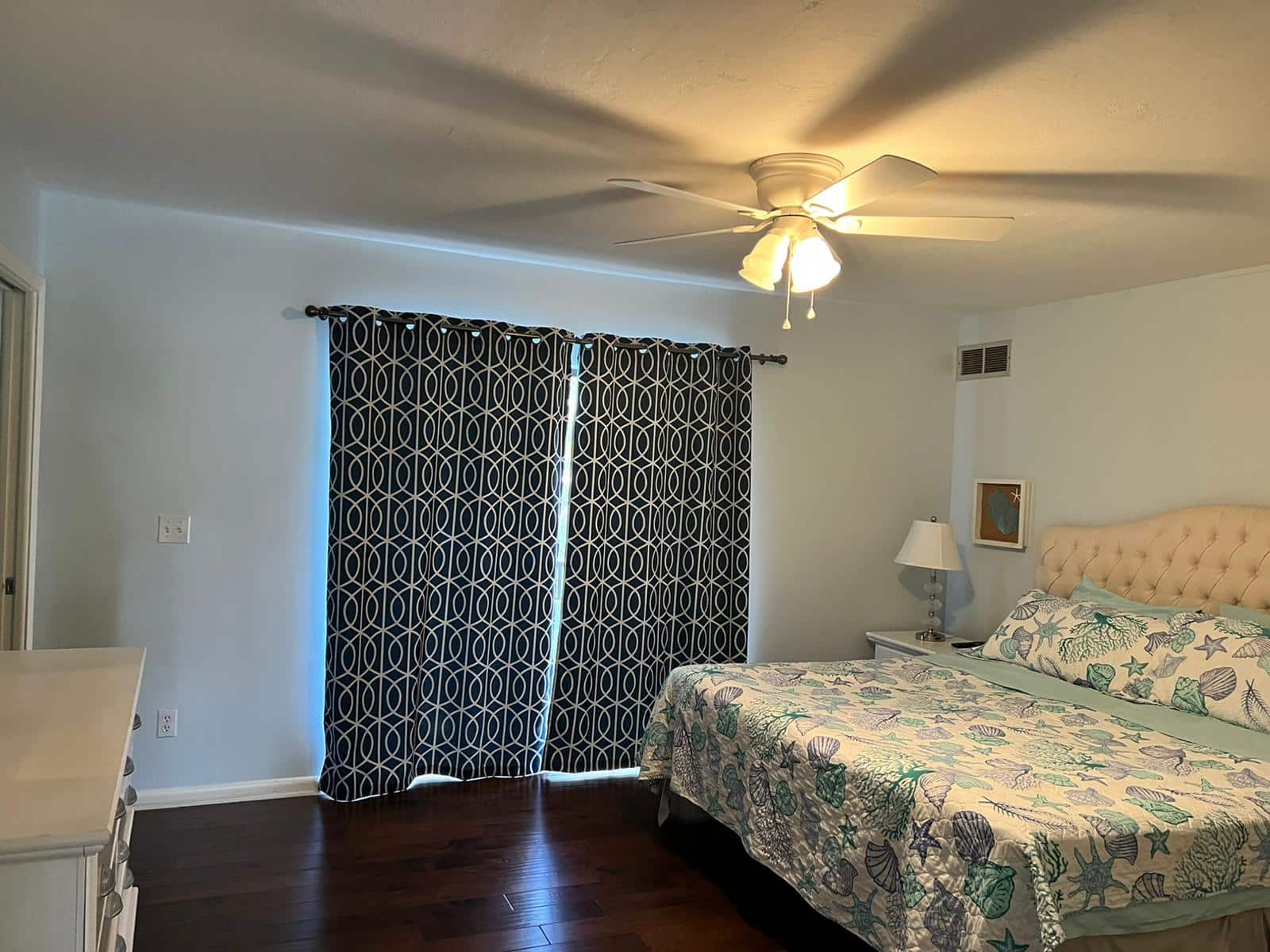 Seek Professional Help for Optimum Results
If undertaking the responsibility of fall cleaning seems challenging, then you're not alone. Prepare yourself with a fall cleaning checklist. Most people cannot find the energy or time to give their houses a thorough revamp each season. This is why we have professional cleaning services. Let My Cleaning Angel handle everything for you, and they'll deliver outstanding results. Their excellent services include:
Deep cleaning services include thoroughly mopping, dusting, and vacuuming the entire house.

Clean appliances like oven, microwave, coffee machines, and fridge. (Both inside and outside)

Clean ceiling fans and curtains.

Clean windows, cabinets, baseboards, and doors.

Disinfectant surfaces, especially kitchen and bathroom.
Their services are available in a variety of packages, each with its own checklist. This makes it simple to cross items off your own fall cleaning checklist.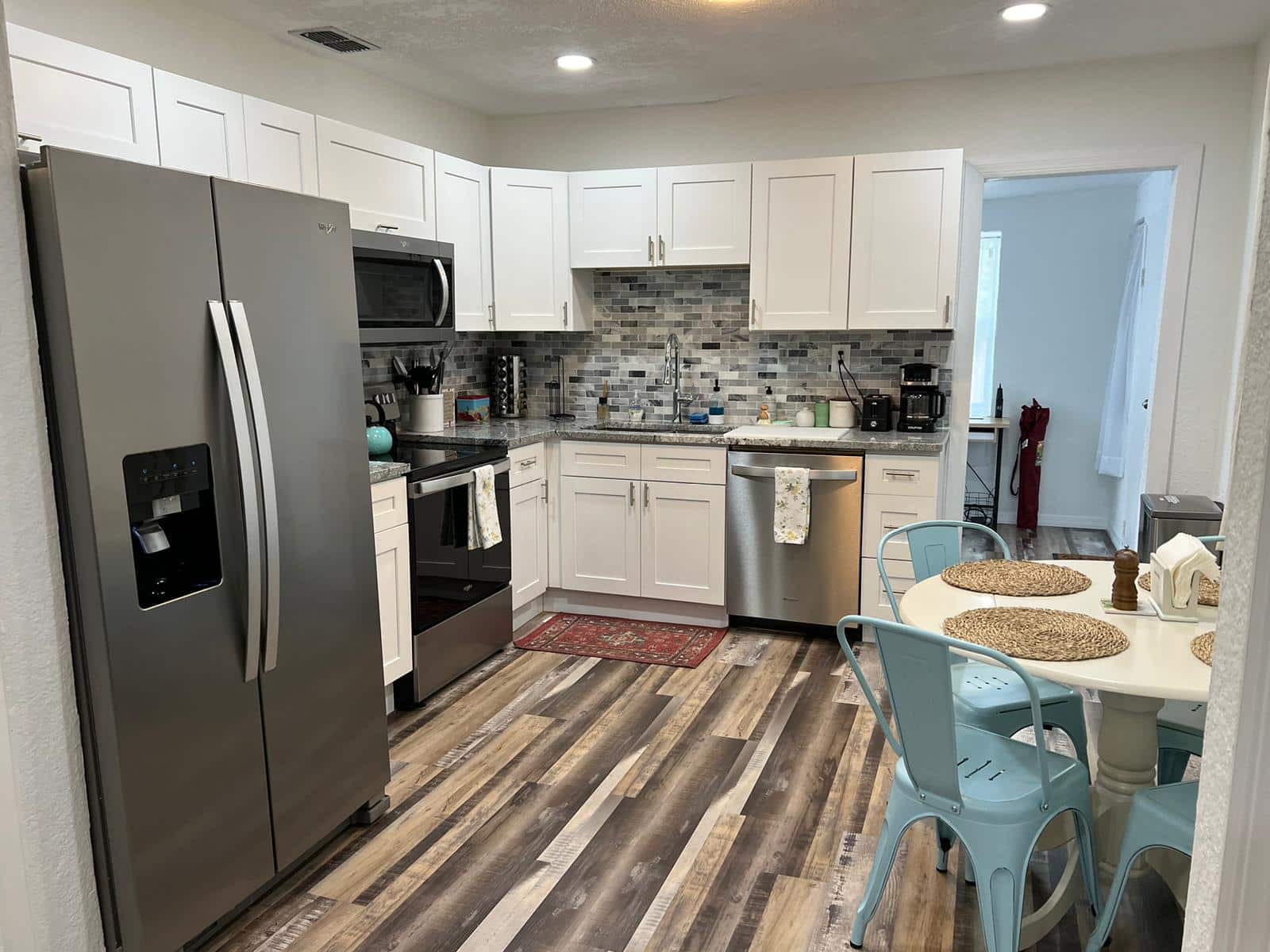 Conclusion
People Also Ask
Can I clean my hardwood floor with water and vinegar?
Yes, you can. But, should you? Yes, but not regularly. Vinegar is acidic and can damage the furnishings of your hardwood floor. Use proper dilution for a one-time cleaning. It's best to purchase a hardwood floor cleaning solution for regular use.
When should I do Fall Cleaning?
The perfect time to start is in September. The weather is still pleasant, and there is plenty of time to get things done at your own pace.
Why is Fall Cleaning more important than Spring Cleaning?
It gives you a chance at pest control. While you're more likely to open your windows to the fresh breeze outside in spring, fall allows you to seal them shut and keep those critters from getting in. Use a fall cleaning checklist to help you.

Do people pressure wash in the fall?
Yes. Fall is the perfect time to leverage pressure washing to clean dirty driveways, walls, and sidewalks. Since the temperature is neither hot nor cold, it won't damage your infrastructure.