Living Rooms are the lifeline of all households. It is the place where every member of the house gathers together for family leisure time and meal time. It's the most sociable place in the house and it is important to maintain its cleanliness for an enjoyable and relaxing time however that's easier said than done. Let's explore some tips and tricks to not only have a clean living room but to also keep it that way.
We also collaborated in a Redfin article, the complete living room cleaning checklist, amazing content, check it out.

Tips for Cleaning the Living Room
Grab your supplies
Assemble a cleaning basket or caddy with cleaning supplies. This will save time and effort every time you need to clean. Just grab the basket and you are all set to clean. Some general things to put in the caddy will be microfiber cloths, paper towels, sponge, glass cleaner, furniture polish, and plastic bags. You will also require either a vacuum cleaner or a broom.
Make a Checklist
Make a list of all the cleaning chores for the living room. Print the checklist and slip it into a plastic cover. Use a dry erase marker to mark your progress. When you are done, wipe it and it will be ready for the next time you clean. The checklist will help you stay focused on the task at hand.
Checklsts are very helpful, including when moving out. Tenants not always get the full deposit back, but we can help you. Check this checklist to help you move out and get your deposit back.
Family Bonding
Get the whole family involved in the cleaning process. Assign a specific task to each member of the family. Make cleaning a family fun game.
De-Clutter
Clutter makes any clean room look messy and unkempt. Place back all the items you collected that don't belong in the clean living room. Make sure when you are done using an item, you put it back in its proper place. Clutter starts small and develops into a big pile in no time at all. If it is an item that you hardly ever use try donating it. Sometimes less is more.
Finishing Touches
When you are done cleaning spray the room with an air fresher or light a scented candle. Nothing is more refreshing than having a clean home that smells great too. Now relax, put your feet up and enjoy a great cup of coffee.
Professional House Cleaning Help
If you feel overwhelmed by the mammoth cleaning task or you just don't have enough time in your busy schedule, you could hire a reliable cleaning company to do the job for you. Folks at My Cleaning Angel are happy to help you.
You can book cleaning services online, it's fast and easy. With less than 60 seconds you can book a home cleaning with no headache.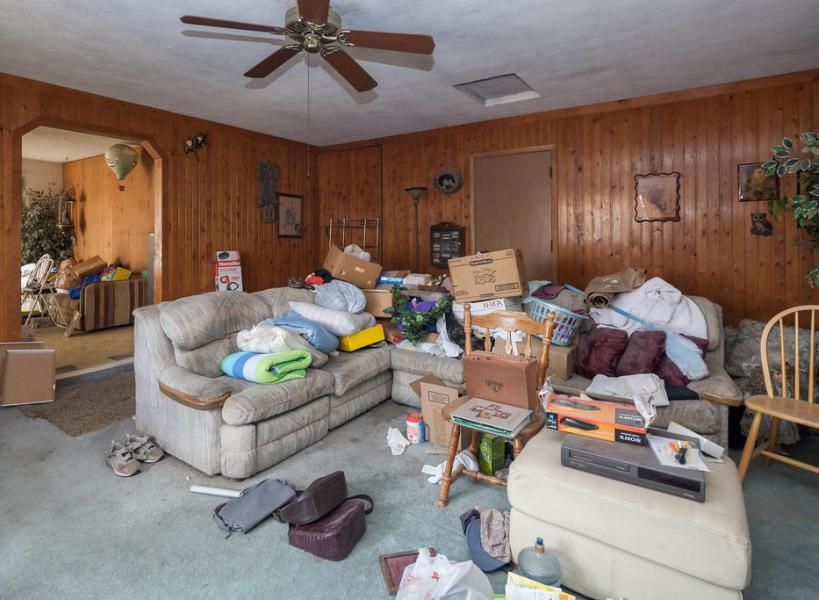 Tips to Maintain a Clean Living Room
Maintain a Cleaning Schedule
The solution to a clean living room is following a cleaning schedule. Consistency is key in maintaining the space's cleanliness.
Daily
Gather all items that don't belong in the living room like toys, mail, blankets, or dishes. Store away those items where they belong. Fluff up the sofa cushions to make them look presentable.
Weekly
On a weekly basis, dust the surfaces in the living room. After dusting it's a good idea to vacuum the carpet. Rotate the sofa cushions for even wear and tear.
Monthly
Clean any hard-to-reach places. Move the furniture and vacuum underneath. Dust the blinds and drapes and clean the windows.
Yearly
It is a good practice to shampoo your sofas, rugs, and carpets once a year. Clean that fireplace at least once every year.
Adequate Storage
Be realistic about the amount of storage you need. Don't try to cram too much stuff into storage that might not be enough.
Wicker or fabric baskets are a great way to store away things that you use daily like laptop cables, toys, and blankets. The baskets camouflage the things and give a visually pleasing and neat look.
Place Things Neatly
Neatness can make a difference between things looking out of place or put away. A pair of shoes placed neatly aligned and on a designated spot will not look out of place. A quick straightening up (that doesn't entail physically putting away) will give the same effect.
Creative Coffee Table
Get a coffee table with storage drawers. The drawers are great for storing smaller things that otherwise end up on the coffee table like remotes, puzzles, and sketchbooks.
The Magic Basket
If organizing things is too much of a chore to maintain a clean living room, the solution is a large basket. Toss all the stuff you need to put away in this basket. Make sure to use one with a pop of color and a lid to add décor to the room. Put away the contents of the basket when you clean the living room.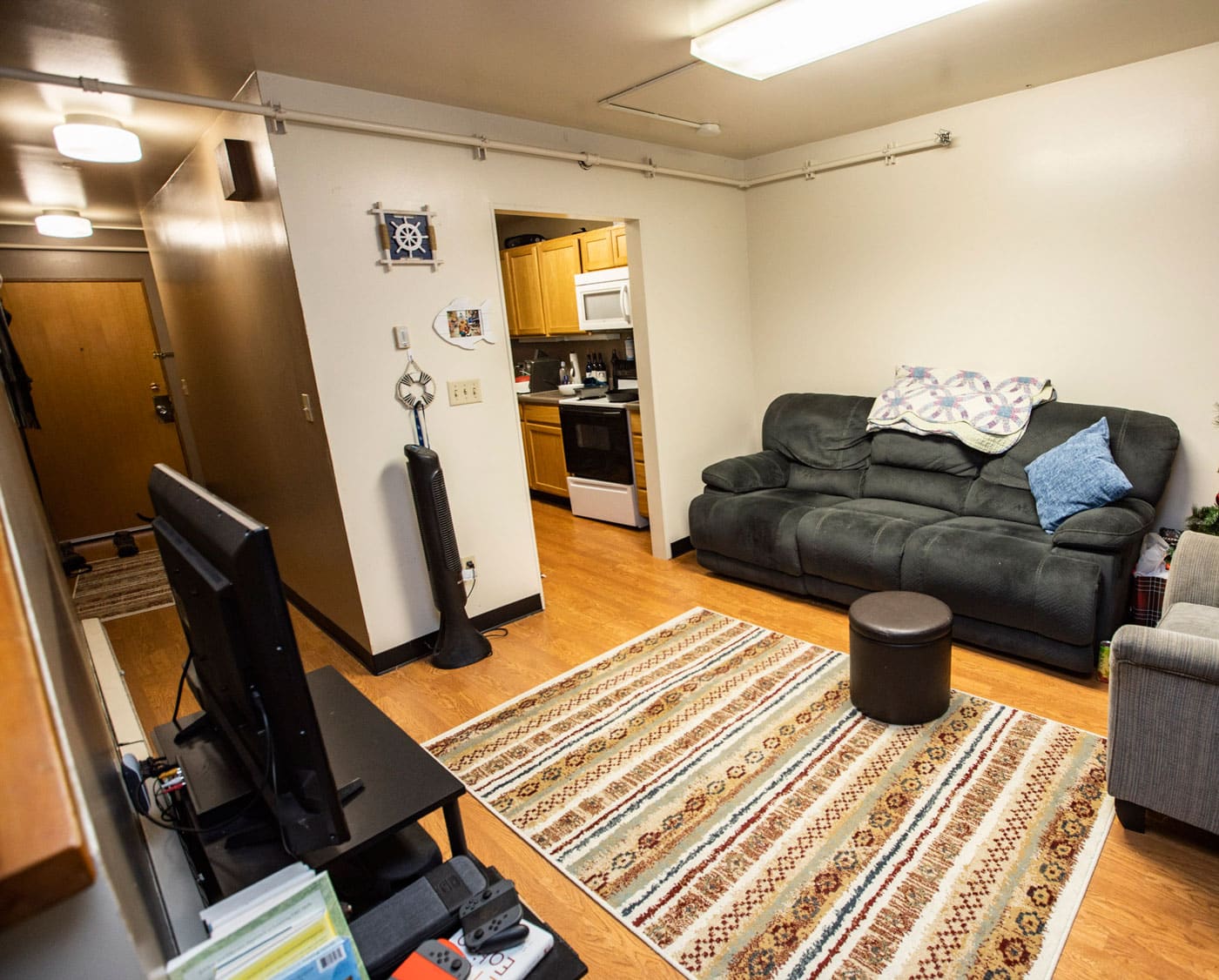 Designing tips to give a clean feel
Furniture Placement
Use your furniture and rug placement to define the living room space. This will keep the other rooms' clutter from gathering in the clean living room space.
Color
A big part of making things look like they're in order is moving the eye around so you experience a space dynamically. This occurs when things are arranged purposefully, and one of the easiest ways to do this is with color. Notice how the bright teals and deeper blues lead your gaze from object to object and the entire effect is harmonious.
Symmetry
Symmetry is soothing to the eyes and applying this concept in room décor will make the space feel organized. Everything does not have to be the same but the balance on both sides of the room will give a symmetrical feel.
Vertical Illusion
Utilize the vertical space in the room. Artwork displaced higher up, draws the eye upward around the room thus giving the impression of order. Hanging things on the wall that you don't use daily frees up valuable space and minimizes clutter on lower surfaces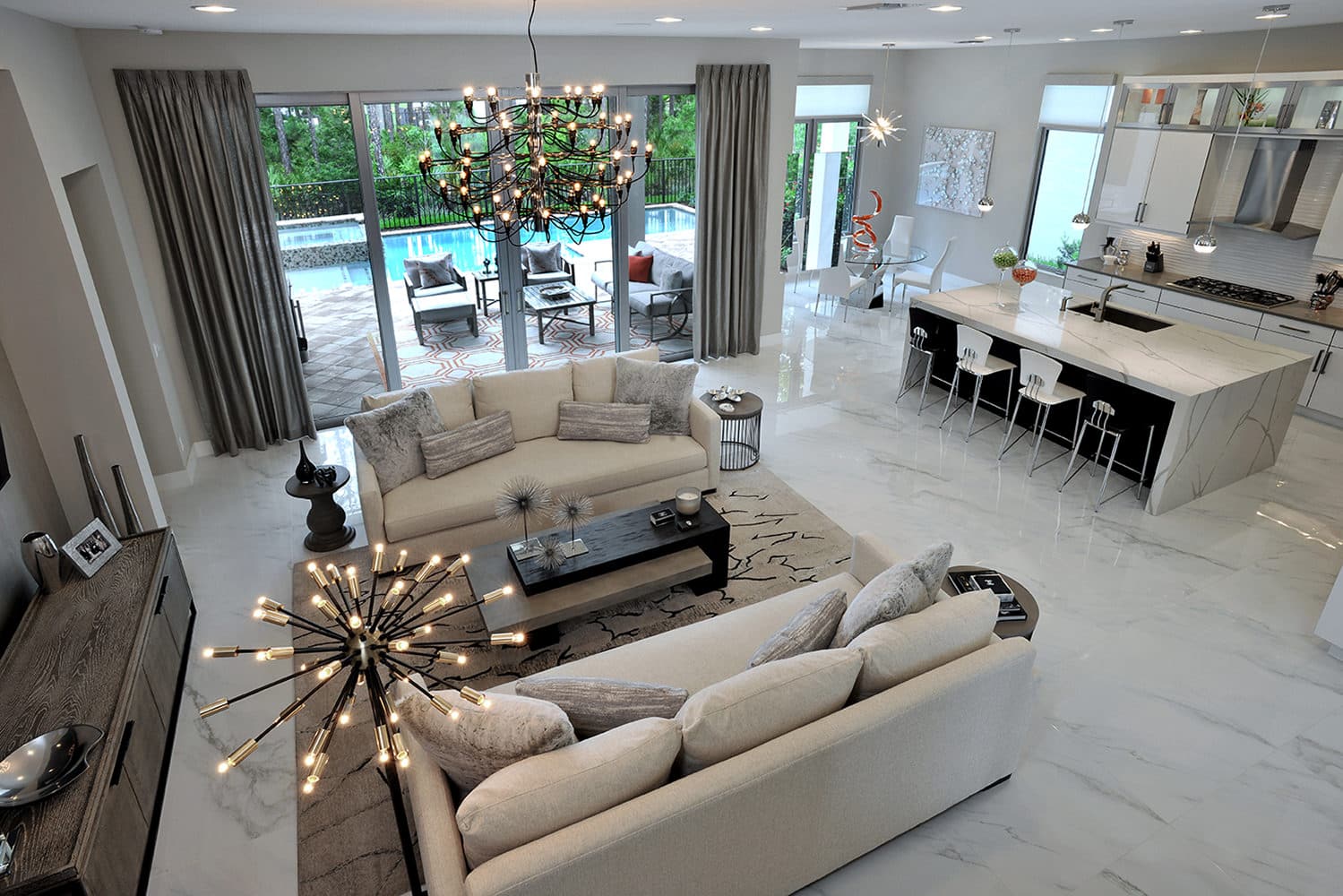 Like Things Together
Group like things together. This will make the room look neat and purposeful. You could also contain small decor in a tray to make it look like one decoration piece instead of small pieces scattered all over.
Dual Purpose Furniture
Buy furniture that serves a multipurpose. An ottoman that also serves as storage will be a more functional furniture piece than a sofa. A storage cart that also serves as a side table will keep clutter contained.
Fewer Pillows
When it comes to pillows, less is more. Few pillows are easier to maintain and just enough to give a soft and comfortable look to the couch. If you keep just a few pillows very little time is required to fluff them up and maintain a clean look of the sofa. Need help keeping your pillows clean? Good house keeping wrote tips on how to wash and keep them clean.

Projector vs. TV
Try installing a projector system in your living room as opposed to a TV. The projector does not require a myriad of cables like a TV and it can be stored away out of sight.
Keeping these tips in mind is a great way to improve the tidiness of your living room on a daily basis. If you'd like to take a shortcut, hire My Cleaning Angel to clean your living room!