Have you been noticing small stains on your marble floor? Is it not as shiny as it was when you installed it? Then read along, as you are about to find all your answers!
As elegant as they look, you do need to clean marble floors to ensure they last a long time. Let us first find out what marble is and the type of your marble floor so that you can use the right medium to clean it.
Marble and Its Types
Marble is a limestone, which is usually processed, polished, and shaped into tiles for it to be used as flooring. The marble is either natural or cultured. As the name suggests, the natural one is directly extracted from the earth, making it a high-end product. While the cultured marble is man-made and so cheaper. Maintaining a floor and house cleaning is not a easy job. If you feel you need help, look for it.

Even though there is not much difference in the cleaning process, there are a few tests you can do to find your marble's type.

Find Your Type
1. Acid Test
Natural marble tends to react to acidic solutions by forming bubbles. Wipe the acid as soon as you see the bubbles forming, it might damage your marble if left for a while.
2. Temperature Test

Natural marbles tend to be cooler even if the temperature around is hot as compared to the cultured marble.
3. Scratch Test
Scratch your marble floor, if you see the scratches, your marble is natural, otherwise it is man-made.
Don't worry, we have got your marble floor covered either way!
Cleaning Marble Floors
There are some very easy steps to keep your marble floors brand new. These steps can be easily done by you at your ease.
1. Wipe The Dust

Clean the marble floors every other day with a dust mop to wipe off all the dust and dirt stored.
2. Wet Wipe
Some dust particles tend to stick to the marble. These need to be wiped with a wet cloth or a wet mop. Try doing that at least twice a week.
3. Stain Free
If you drop coffee, tea, or anything else on the floor, don't let it sit. Take a towel, or even tissue paper, clean the marble floor as soon as possible! This way you can keep your marble stain-free.
Are The Stains Stubborn?
Have the stains been sitting around for a while? Or is something stuck on the marble tiles for a day or two? Don't worry, they can be removed easily if you follow these hacks.
Add some mild cleaner to the water, and use that to wipe your floor.

You may leave the detergent over the stain, or lightly scrub it a bit to scrap it off. Don't scrub harshly, you might damage your marble.

If you've dropped an oil on the floor, spread over some cornstarch. Cornstarch absorbs the oily substance leaving the surface clean.

You may use an ammonia solution to clean the marble floor. The ratio should be 1 portion ammonia and 2 parts water. To wear a mask while using ammonia has it has a strong odor.

If the stains are still visible and affecting the overall look of your marble floor, the next step is a paste. The most effective paste to lighten up the stains consists of baking soda mixed with hydrogen peroxide. Apply it with a brush, and thoroughly wash the area with water within half an hour. Make sure none of the paste is left on the floor.
These steps can surely bring back the shine of your marble, restoring the elegance of your house.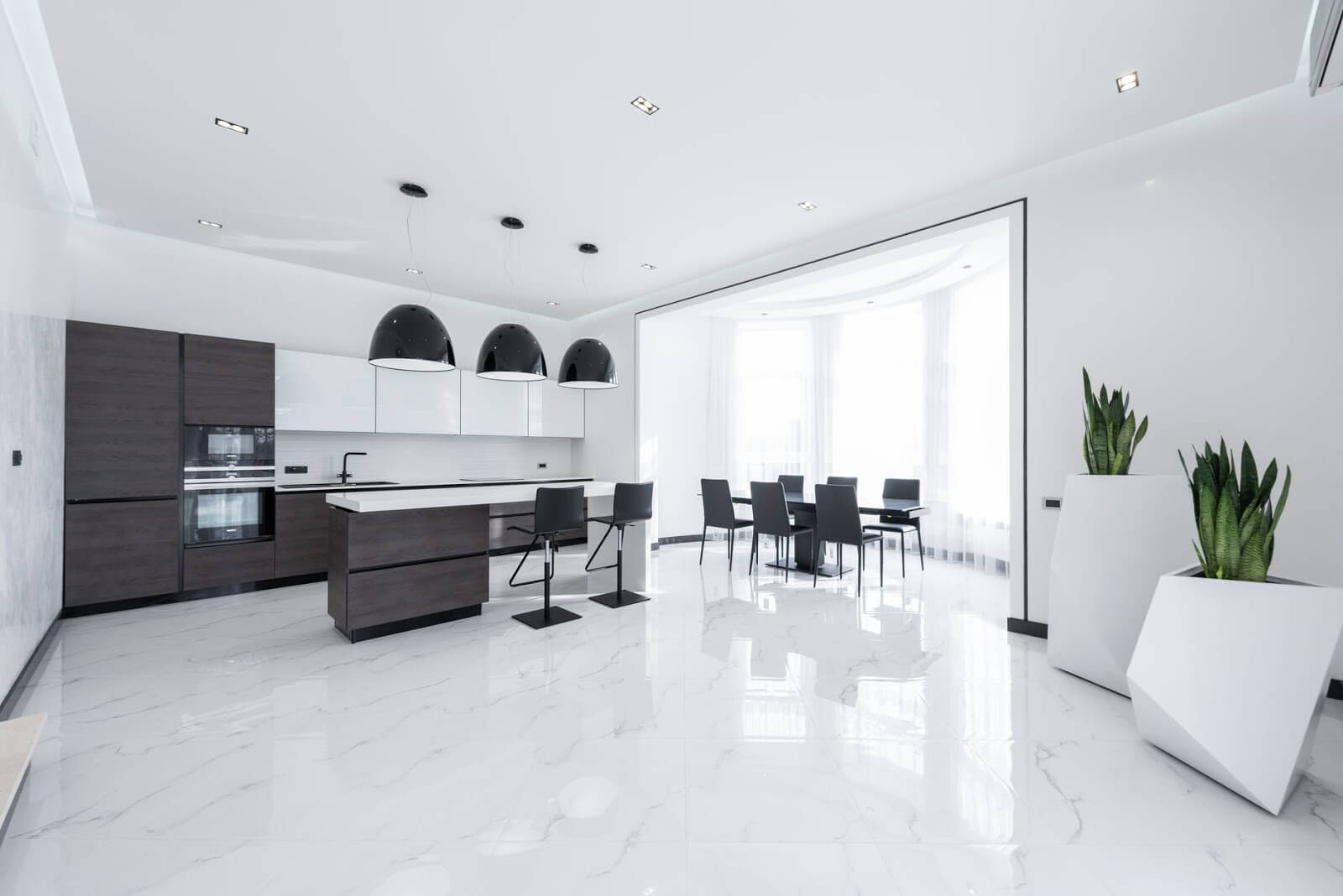 How to Polish the Marble Floor?
Cleaning the floor is a routine thing. Something you should add to your weekly tasks. However, polishing your floor should be done once a year or maybe twice depending on your use, and the condition of your marble floor.
An easy DIY polish that can be easily made at home is by mixing equal parts of baking soda and water. Use it by spreading it over the marble floor. Kit it be for a few hours, and then wipe it off with a microfiber cloth. You may also dip the cloth in warm water, and wipe the paste by gently moving the cloth in circular motions to enhance the shine off the floor and ensuring the lasting effects of the polish.
Can The Polish Be Sealed?
Yes, of course. The polish either DIY or store-bought, can be sealed to make it last longer. Marble sealants can be bought from any hardware shop, or just give us a call!
The sealing agent might need to be applied twice or thrice while doing the process, to make sure all spots are covered and sealed.
Once you apply the sealant, it is advised to not use the floor until the sealant is dry. This way the sealant can do its magic better. You may have to seal the polish every year if not polish it, to keep the marble shining.
What Can You Do To Maintain The Marble Floor?
If you are someone who is very lazy when it comes to cleaning, or if you are very busy with your other chores, you can still keep your marble floors tidy. Pro-tip, if you don't want to clean it, don't let it get dirty.
There are a couple of things that you should
Install rugs and mats around your floor, especially at the entrances of washrooms and main gates. This way the dirt, and germs will get wiped off in the rugs and mats. Keeping the floor cleaner. You can then dry clean or machine wash your rugs.

Avoid any spill of citrus, coffee, tea, or anything having vinegar in it on your marble. This very important, and usually the most common source of stains on the marble. If by mistake, the spill has occurred, spray water all over it, as soon as you can. The water will balance off the pH level. Hence, reducing the chances of permanent stains.

But if you are a pet lover, and own one, you should

clean marble floors

at least every other day. Removing the hair of the animal is very important for your health and your family.
These tips can surely make your life easier, and you will be able to avoid lengthy cleaning sprees every other week. But we are here to make your life much easier. You won't even have to worry about the maintenance. Why not try hiring a cleaning company?.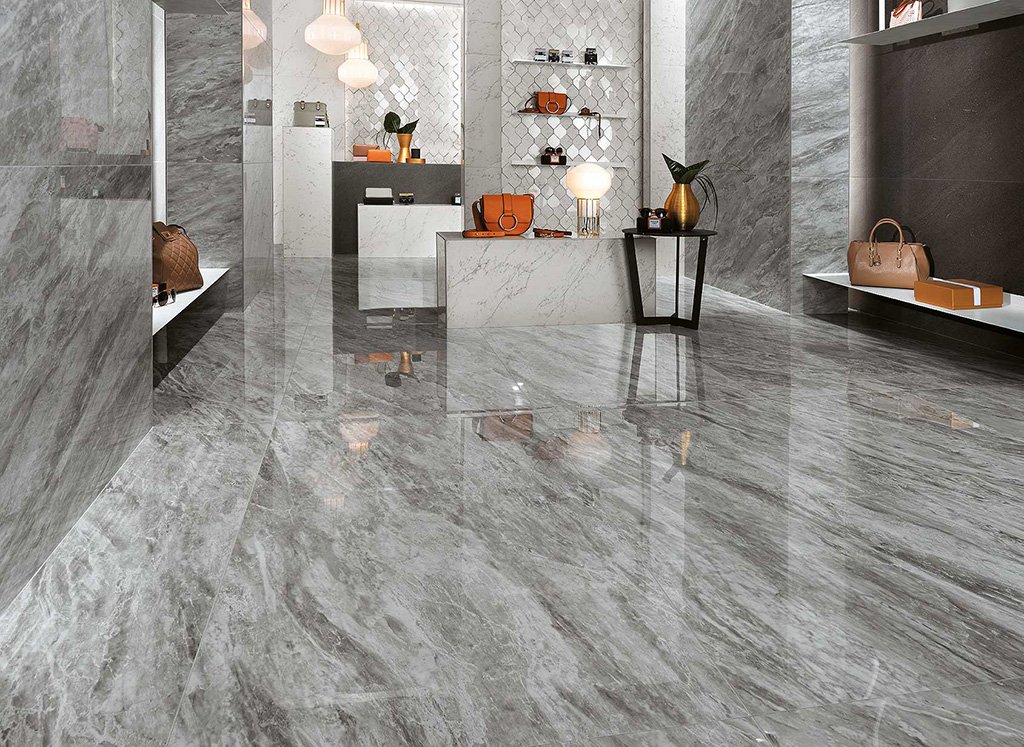 Why Hire Us?
For us, our customers are very important. We know what you need. Our cleaners are professionally trained and equipped with the best quality cleaners, polishes, and sealants. Book cleaning services online is super easy, you should really try.

Your marble floor needs pampering from our team, and we promise to bring back their brand new look. Hiring us will save you a lot of time, and also restore the look of your marble making your house beautiful again.
Our services are extremely affordable, and our team at the Cleaning Angels are extremely accommodating. Let us worry about all the cleaning, polishing, maintenance of your marble floor. We will be waiting your call!