As luxurious as your leather couch looks today, with proper care and maintenance, this investment can last you a very long time!
Compared to other fabrics used in couches, leather is by far the most durable option. One of the only fabrics that look better with each passing day, only if you follow the tips.
Read along to discover the best solution to clean leather couches, making them look brand new even after all these years.
Daily Care Routine
Whether protected or unprotected, leather upholstery is delicate. To make it long-lasting we have some suggestions for you:
Soft Wipe
Regardless of the weather and haze intensity in your area, it is ideal to wipe and dust your couch with a soft micro-fiber cloth every fortnight if not every day. This is very important because it prevents any dust particles to settle in your leather or leave a stain.
Don't Let A Spill Sit
If by any chance, someone drops off a drink or a bowl of spaghetti on the couch, use a cloth or toilet paper to wipe it as soon as possible. Don't let any liquid or solid sit on your leather couch for long. It might leave a permanent stain.
Monthly Cleaning Routine
Are you not an everyday cleaning person? And prefer to do it once every three to four weeks? Well don't just leave, we have some secret tips for you too.
Vacuum
Dusting your couch and other furniture every day could be hectic for a working person like you. We understand that you need a less time-consuming yet effective way to clean your leather couch.
Vacuuming your way through your upholstery is just the right choice for you. Leather is sensitive and can bruise easily, we suggest you use a soft bristle brush to clean your leather couch.
Leather Cleaners
You can always go for the store-bought leather cleaning potions. These are handy and widely available. Less time-consuming and of course, it has good results.
NOTE: please consult your manufacturer for the type of leather used in making the couch. Every type has a distinct nature, and the cleaner might not be suitable for your couch.
If you are unsure of the leather used, read till the end where we tell you how to identify the leather of your couch.
Professional Cleaners
If you are unaware of the nature of your couch, and cannot contact your manufacturer, we suggest you not experiment with anything. Hire a professional and let them do the job for you. In doubts on how to clean your living room too? We have the answer.
To decrease the pressure of cleaning and maintaining your leather furniture, don't forget to wipe the stain then and there with a cloth damped in distilled water.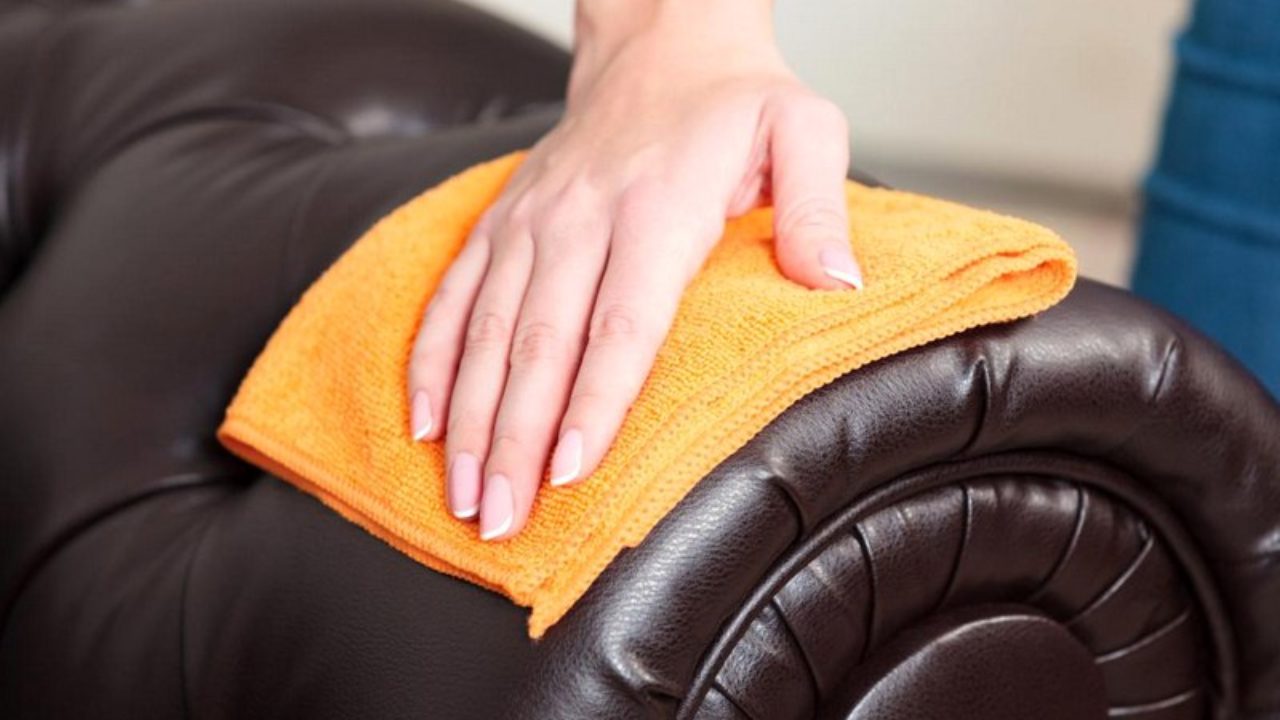 Maintain Your Leather Couch
Leather sofa and couch have their own aesthetic, timeless vibe to them. Even after decades, they can still look just as if they were bought last month. Easy to care for and easy to maintain.
Cleaning and maintaining furniture go hand in hand. If you are not providing your leather with its required needs, your cleaning efforts will go to waste.
Follow our guide on how to maintain your leather couch!
Keep Your Pets Away
Owning a pet is good. But having it around your leather couch is a big no. wondering why? Well, that is because cats and dogs have paws, that can scratch and bruise the leather. Teaching them not to sit, cuddle or go close to the couch is your task.
Your investment in luxury might result in a big expense if your pet isn't trained.
Avoid Direct Heat
Natural products like leather are sensitive to extreme heat or cold and sunlight. Not only if the texture of the material, but also the color of the leather can be worn out in extreme temperatures.
Avoid keeping your leather couch in direct sunlight or near the fireplace. These are two main sources of heat that can affect the natural product. air conditioners can also be a hidden rival of your fabric.
Dust All Sides
Everyone is in a hurry, isn't it? In the hassle to finish work off as soon as possible, most of us try to clean whatever the eye sees and forget about the rest that doesn't meet the human eye.
It is essential for you to wipe, dust, and condition all the corners of your leather couch. Why so? Because with time, the leather ages, if it is not treated as a whole, the quality might start to deteriorate from certain areas. Giving it an uneven and untidy look.
Buff Your Leather
Like any other surface, polishing and waxing are vital for leather to maintain a velvety feel. But how? We have a DIY tip for you!
Mix vinegar and any natural oil (preferably flaxseed or lemon) in equal parts.

Dip in a soft microfiber cloth in the mixture

Strain it completely, make sure it isn't dripping any.

Wipe your leather couch with it and leave it overnight.

Clean the leather couch

the next morning with a dry cloth.
Note: please try this on a hidden area to see if your leather reacts to any of the substances used. We prefer you consult with a professional before testing any DIY tip. Or hire our house cleaning services to clean everything in your home.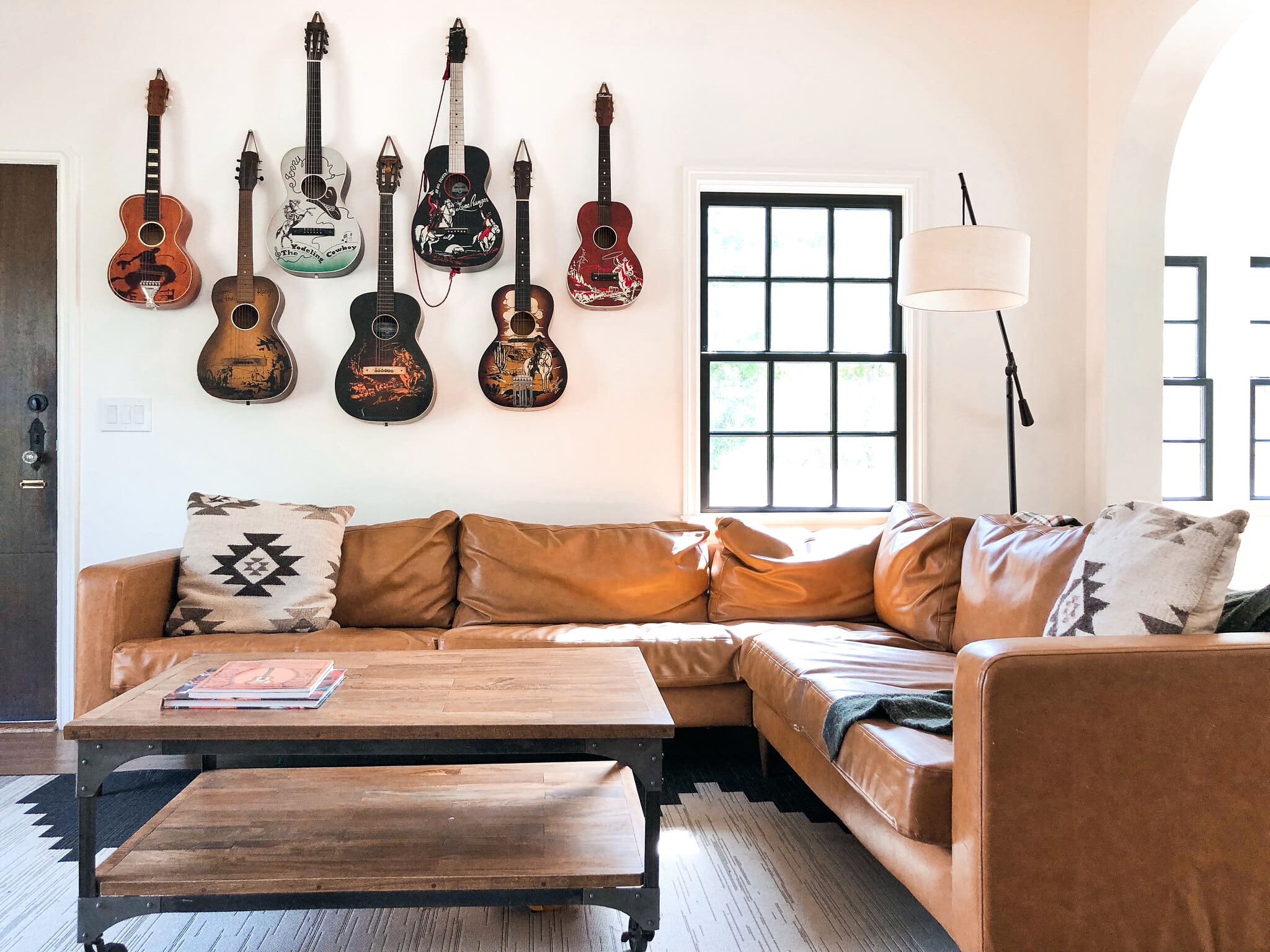 Things That Can Cause Stains and Scratches
We know you care about your furniture and we love that. To help you take care of your precious belongings, we have listed all the potential hazards to your leather couch. Try your best to avoid these and you are good to go!
Ink
Leather stains very easily especially dyes. One thing you should avoid using near light-colored leather couches is any kind of pigments.
Pets
Train them or keep them away. This is the only way to avoid scratched leather furniture.
Nails
Anything pointed has to be avoided! From your fingernails to knives or even tools. All these things can not only scratch the leather but also tire it apart.
Solids or liquids
You should dry out any spill caused on your leather. These spills can leave permanent stains or even fade the color away.
If you notice any scratches, rub a clean finger over them and rub them gently with a slightly damp cloth. Buff the couch later to seal the leather. You can also use some leather protectors, subject to the nature of your leather.
How to Find the Leather type?
Before cleaning, buffing, or polishing your couch, make sure you know the type of your leather. This is very important because each type has a separate set of characteristics and has to be cleaned and maintained differently. One way to find out is by reading the manual that came in with your furniture. But you can't find it, don't worry. We have a way!
If your leather feels a little stiff, it is probably because it is a protected leather. This means it can handle some wear and tear, but it is sensitive to alkalis; so make sure your cleaner doesn't have any.
On the other hand, if your leather feels softer and velvety, especially if it was more on the expensive side, it is an unprotected leather; very delicate and sensitive. We wouldn't suggest you take any DIY steps for it.
If you are looking to get your leather couches cleaned up and give them a fresher look, book cleaning services online with My Cleaning Angel and set your worries free!