Is the flow of water from your showerhead blocked? Or is it shooting in all directions? Well, that is because your showerhead needs a deep clean.
Taking a shower is a part of your daily routine. We often forget, but the showerheads are some of the most frequently-used bathroom accessories in our household. Keeping them clean and well-maintained is our responsibility.
Wondering where your showerhead got all the dirt from? Read along as we explain to you the whole process.
Why Do Showerheads Get Dirty?
Like everything else, showerheads can also store dirt and tarnish over time. The first thought that comes to mind is, "but showerheads are used to wash dirt, how can they get dirty?"
Well, water contains some microscopic particles that stick to the holes of the showerhead, leading them to clog over time. These particles are mostly minerals that flow with the tap water. Another reason for the showerheads to get all rusty and dull is because the lining inside some pipelines corrodes. It travels with the water, but get blocked by the small nozzles in your shower head.
Over time, these accumulated micro particles create a disturbance in the water flow from your showerhead.
Why Should You Clean the Showerheads?
To have a healthy bathing environment, it is vital to keep your showerheads and other accessories clean and tidy. Talking about the showerhead, particularly, the microscopic particles become home to bacteria and other microbial species that can take a toll on your health and wellbeing. Ingesting the contaminated water, or even getting in contact with it can result in skin allergies and other diseases if not controlled on time.
Clean the bathroom is essential for some people. And cleaning your showerheads is not a difficult task if you do it regularly, let's see how!
How to Clean the Showerhead
?
Planning to have a long shower after a hot, tiring day that would take all your worries away? Please don't jump into the shower just yet. You got to have it cleaned up first!
To start, think about the last time you cleaned the showerhead. If you can't remember the day, it's probably because you haven't cleaned it ever. But don't freak out, we are here to guide you with the deep cleaning process.
Deep Clean
Don't worry and be prepared to see all the gunk and dirt hidden in your showerhead over the years. Following are the steps to deep clean a showerhead.
1. Detach the Showerhead
The first step is to remove the showerhead from the shower arm. You can use a screwdriver to unscrew the nuts. Place a tissue paper or a rough cloth in between the surface to avoid ruining the polish of the equipment.
2. Rinse it
Wash the showerhead thoroughly under a faucet. Making sure all the gunk and slime are completely rinsed off. Good job, you are already halfway there.
3. Pour Some Vinegar
You might be thinking that the water has cleaned up the showerhead, but we suggest you dip the showerhead in a bowl full of vinegar. Vinegar will dissolve all the mineral deposits from the showerhead. Add some baking soda to the bowl for some extra cleaning.
4. Use a Toothbrush
After soaking the showerhead in the vinegar solution, scrub it inside out with a toothbrush. Pour over some baking soda, and rub it in. This will clear all the clogged nozzles and release any settled micro-particles.
5. Rinse it Again
After you are done scrubbing the showerhead, leave it for 10 minutes before rinsing the substance off. Make sure to wash it thoroughly.
6. Reassemble the Showerhead
Your deep cleaning is complete. Reassemble your shower and enjoy the smooth flow of clean water.
Don't forget to wear gloves while working with vinegar. Your skin might be sensitive to it, better to take care of all the precautionary measures.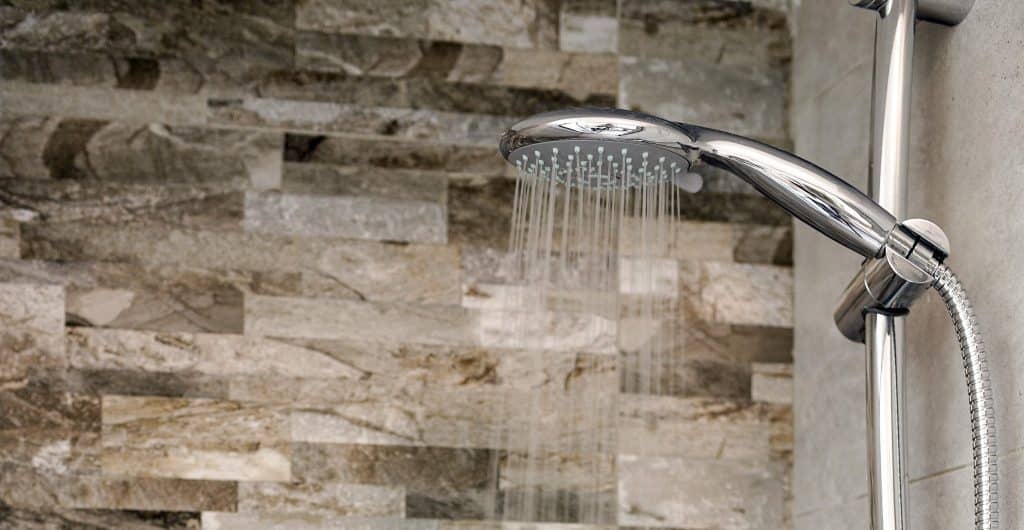 Routine Clean
You don't need to deep clean your showerheads every month or so. But to ensure there isn't any residue piling up, we have some tips for you to perform every month or two.

1. First Step
Mix some vinegar with water in a spray bottle. Spray it all over the showerhead and gently scrub it with a brush. It will clean all the dirt particles that may have started to sit in the nozzles.
2. Second Step
Be sure of the material of your showerhead. If it is made up of nickel, avoid using vinegar as it might dull the metal overall. You can replace the vinegar with soap from tip 1, and follow the same process. Using lukewarm water may speed up the process.
3. Third Step
Not in a mood to scrub the showerhead yourself? No problem! You can fill a plastic bag with vinegar and water, dip your showerhead in it, and tie the bag with a rubber band. And let it sit for a while or overnight. This way you don't have to disassemble the showerhead but can still clean it from inside.
After performing any of the above-mentioned tricks, don't forget to rinse the showerhead well. Make sure all the vinegar is washed away before you hop in to take a shower.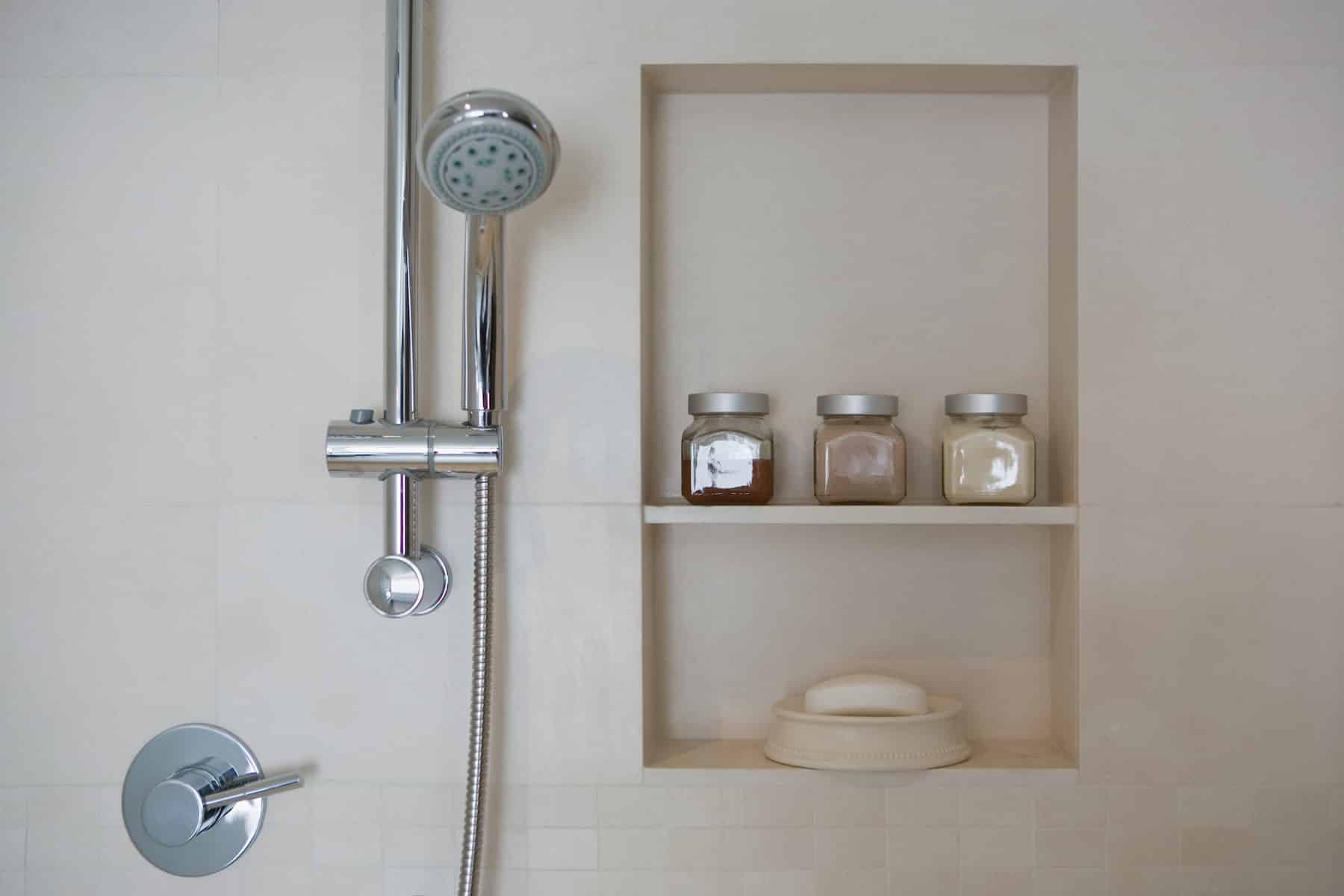 Things You Should Avoid
While cleaning your showerheads, there are certain things you should take care of, especially if your showerheads are made of metals. Read along to find out!
1. Do not Bleach
While bleaching sounds like the ultimate solution to cleaning everything, it wouldn't be the right choice in this case. This is because, under the latest research, scientists have found out that bleaching solution tends to boost the reproductive cycle of the bacteria and other microbial species living inside the showerhead.
We suggest you stick to soap and vinegar only, depending on your showerhead.
2. Do Not Use Chemicals
You will always find an aisle in the supermarket filled with cleaners. They might claim to wash off showerheads too, but please don't try anything without consultation. These cleaners comprise of highly reactive chemicals which might cause further damage to your washroom equipment.
3. Do Not Use Harsh Brushes
As you read above, we suggested you use a toothbrush for scrubbing the showerhead. Well, this was for the same reason. Toothbrushes are comparatively softer than the normal bathroom scrubbers available in the market.
To clean the showerheads, opt for a brush with soft bristles to protect the shine of your metallic showerhead.
4. Do Not Use Vinegar
Vinegar tends to react with metals leading to a rusty, corroded look. Prefer using a bar of soap or a dishwashing liquid to clean your metallic showerheads.
For the plastic ones, you can use vinegar, no problem!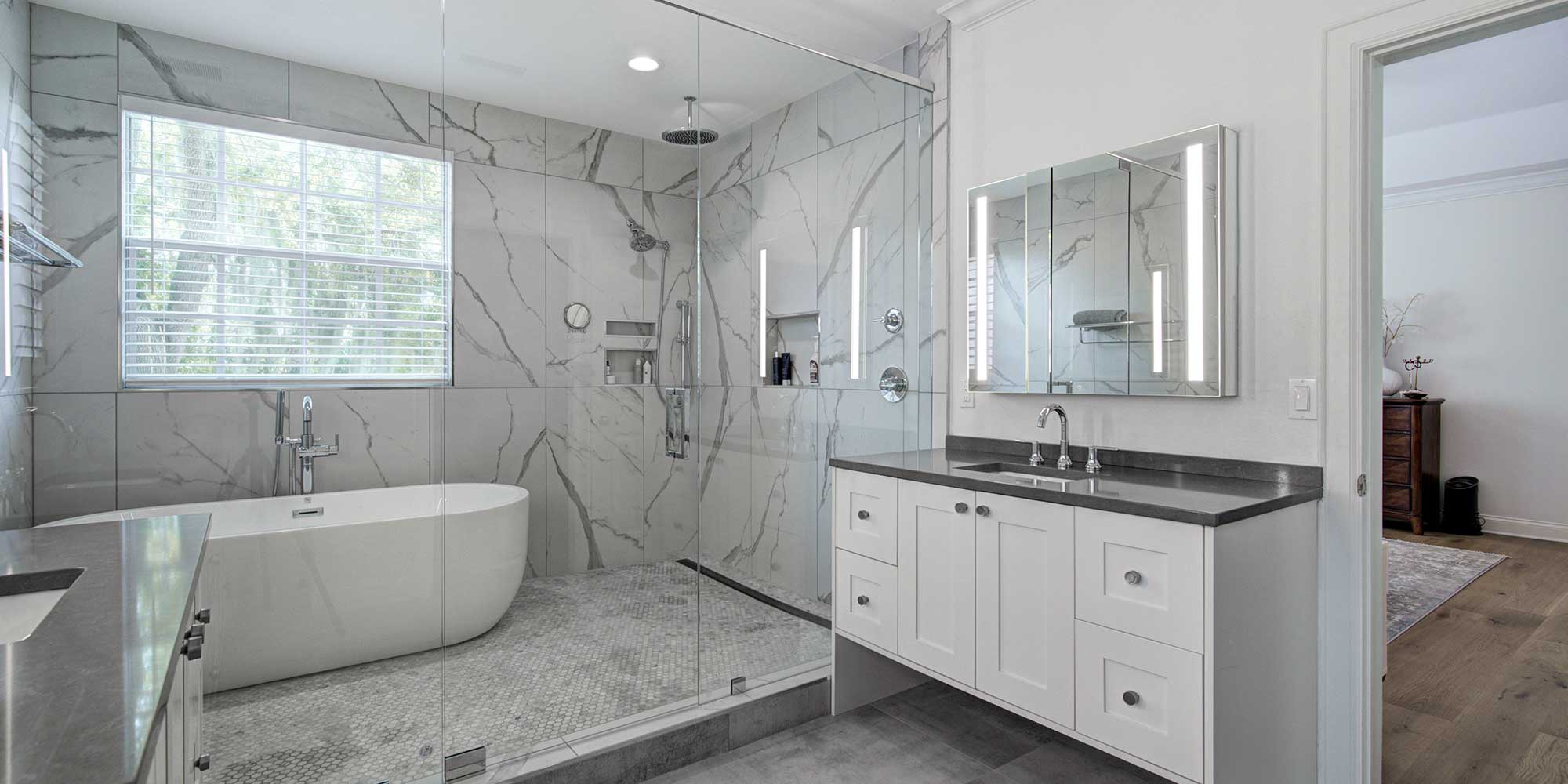 Is the Process Difficult and Time Taking?
The process to clean showerheads is relatively easy if the dirt is not much. But if you haven't had them cleaned in a while, it might get tricky.
On average, routine cleaning and deep cleaning, both shouldn't take more than a day. But if you are lazy and don't have time to do these chores, we do have a solution for you!
Let us handle all your cleaning duties at the most reasonable prices ever. From cleaning your showerheads to your marble floors, leave it all on us. We have a team of extremely professional cleaners just a call away from you. Book cleaning service online with us now and free yourself from all the household cleaning duties!