Clean door handles of all the doors can seem like an unnecessary task, but it can have big payoffs in terms of your health and safety. After the hit of COVID-19 worldwide, it has become imperative for us to follow cleaning measures as a precaution against the deadly viruses and bacteria. The door handles of your home are no exception. They accumulate the most germs because of frequent use. Here's why wiping door handles is so important and how to do it properly every time!
Why is it Important to Keep Door Handles Clean?
When discussing effective methods of infection control and good hygiene practices in any environment. Whether it's a home, school or office, restaurant, or health care facility, we cannot ignore the importance of door handle/knob cleaning and disinfection.
Door Handles are Hotspot for Viruses
Various viruses can cause the common cold, and many of them can live on interior surfaces. These viruses can survive for up to a week on nonporous surfaces like stainless steel. Which is a common element on door handles. After around 24 hours, however, they become ineffective and unable to propagate an infection. Which is why regular cleaning is so beneficial. The influenza viruses may live on hard surfaces for up to 24 hours. So if someone infected with the virus touches a door handle, everyone who contacts it within the next day will be in danger of contracting the infection.
Bacteria Can Survive Up To Weeks
It is also more concerning because terrible stomach bacteria like E. coli, Clostridium Difficile, Staphylococcus, Aureas, MRSA, and Norovirus. These are a few of the most dangerous fungal bacteria that are notorious for living on door handles for up to weeks. Most researchers think that the droplets carrying the flu or a cold virus can remain contagious for a few hours after they land. Generally speaking, germs have a longer window of opportunity to spread on hard surfaces. Like stainless steel, plastic, and the like than they do on softer surfaces like fabric. Making door handles the hotspot for risky germs and bacteria.
Public Places are Germ Magnets
In addition to homes and offices, door handles in public places are contagious as they are excessively used. Throughout the day, people come and go from public places like libraries, universities, and parks. The risk of catching hazardous germs or common viruses becomes even higher. Because of this and anyone who comes in contact with these handles can get affected.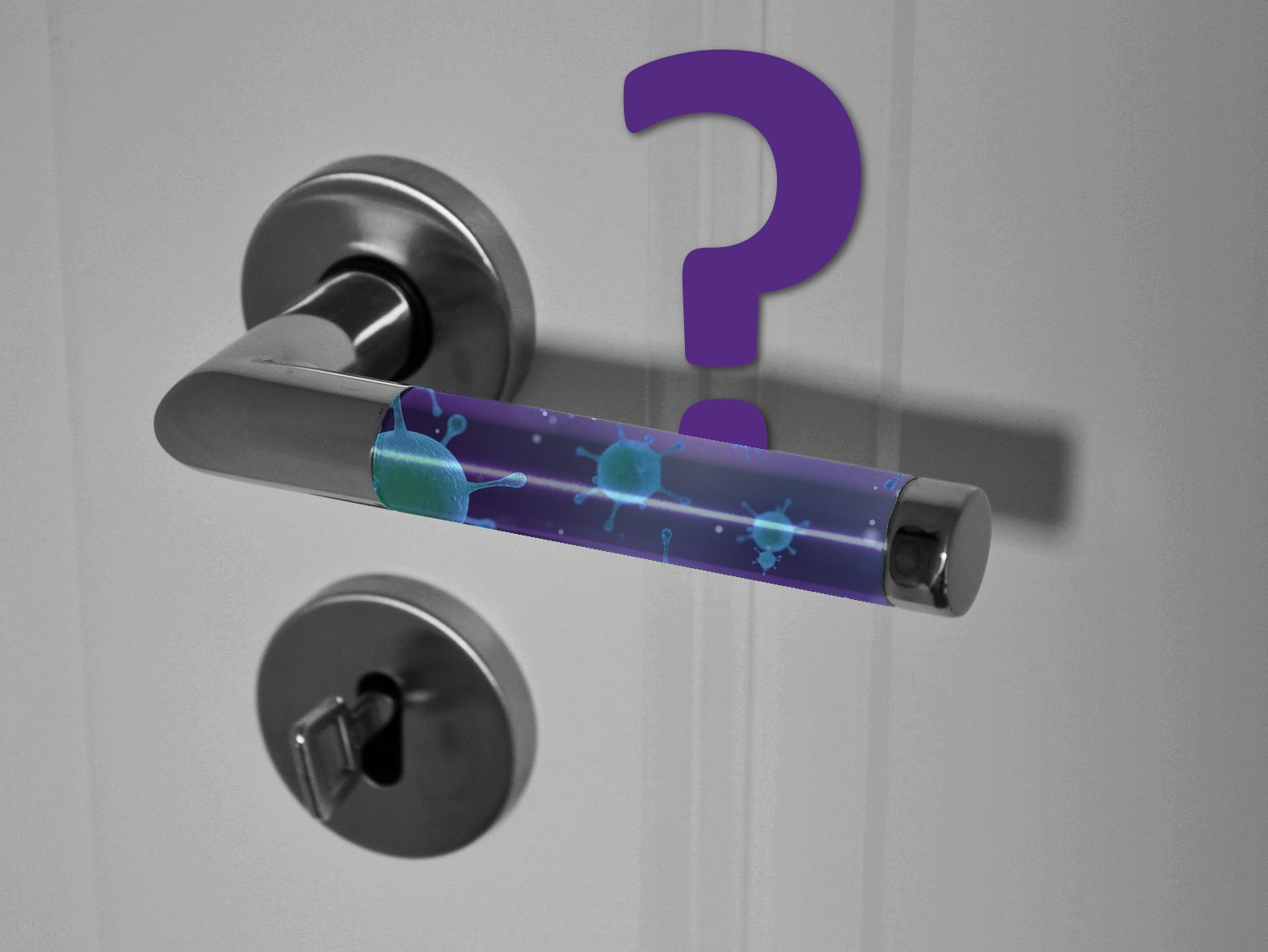 How Often Should You Clean the Door Handle?
Door handles are the most neglected part of your home cleaning routine and this can result in serious illnesses. If you want to protect your family from unwanted risky germs from spreading around the house. Then you must regularly keep the door handles clean and free of harmful bacteria. Cleaning door handles regularly can help prevent the germs from growing and eventually wreaking havoc around the house.
Generally, door handles around the house should be thoroughly wiped down at least once a week. Some door handles, like the kitchen or toilet, are a playground for germs. And they should be cleaned more frequently as compared to other spots. If you have an ill person at home, then it's recommended to clean the high-touch areas. As door handles, at least twice a week.
Factors to Consider Before Cleaning Door Handles
Cleaning door handles can vary from home to home. Because each handle is made of different materials, coatings, and tarnish. To select suitable cleaning supplies and equipment, you need to know what materials are your door handles made of. Here are a few important things to consider!
Material
Before you roll up your sleeves and start cleaning your door handles, you have to keep in mind that each handle is made with a specific material. Like brass, steel, or zinc. Each type of metal necessitates a unique approach to cleaning and knowing the composition of your handles is crucial to avoid scratches and other damage. Furthermore, the plating of the decorative finish on your handle can get damaged by aggressive polishing or by using abrasive chemicals.
Location
In contrast to the interior door handles, which are protected from the elements, the exterior door handles are continually exposed. As a result, are more prone to become dirty, stained, or otherwise damaged.
Coated Finish
Coatings or lacquers can also be used to protect the metal of door handles and knobs. This is especially prevalent with brass hardware. If your handles are particularly shiny, it's because they've been coated with a clear varnish to keep the metal from rusting. These coatings require specific care, and you shouldn't use general cleaning supplies to clean such door handles.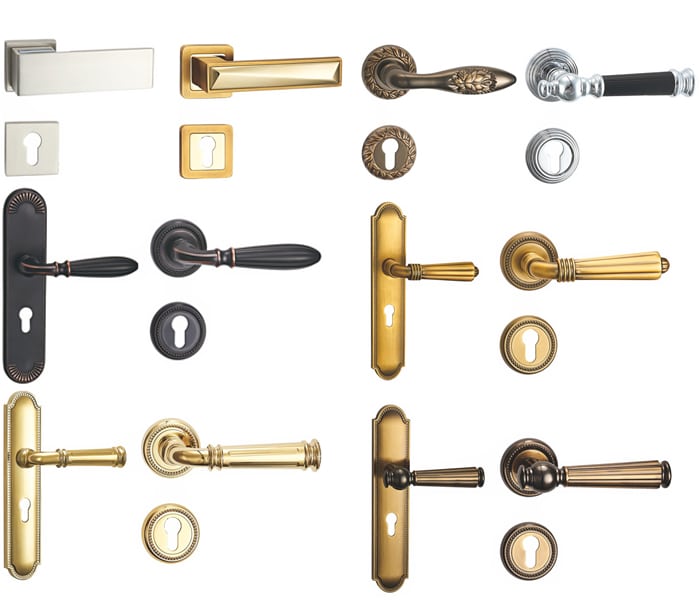 How to Clean Door Handles
Door handles are one of the easiest and quickest ways to bring bacteria and other contaminants into your home. Cleaning door handles isn't typically the first thing people think about when it comes to cleaning their home. But it's an important step that you shouldn't miss during the deep cleaning.
Door handles can get dirty frequently, especially if you share your home with pets and children. But getting them clean again doesn't have to be hard work or costly. With these cleaning tips, you'll be able to clean door handles in no time at all!
1. Brass and Copper Door Handle
Knobs made of solid brass or brass plating require special precautions to avoid door handle germs and corrosion. If you have a powerful magnet, you can tell what kind of doorknob you have since the magnet will only be drawn to the plated metal. You can try a few things at home to restore the shine of a doorknob made of solid brass or copper!
How To Clean Brass/Copper Door Handles
Mix some flour, vinegar, and salt to make a paste. Depending on how much area you have, a tablespoon of each item can be a decent starting point. Lightly apply the paste and rub it into your brass and copper door knobs and rub it off with a soft cloth after a few minutes.
Cut a ripe lemon in half lengthwise, and sprinkle the exposed pulp with salt. Use the covered side to clean your brass or copper, removing grime, bacteria, and tarnish. Then wipe it off with a cotton cloth to remove any residue.
2. Stainless Steel Door Handle
Mild soap and water is the best cleaning solution for your stainless steel door hardware. Stainless steel can corrode if cleaned using commercial cleansers that contain chloride or chlorine bleach. Scratching the stainless steel with steel wool or other abrasives can also reduce the life of your stainless steel handles.
When cleaning your stainless steel door hardware, it's best to use a soft, soapy cloth and then rinse it off with clean water. But if you see grime or residue that just won't budge, you can use a mixture of olive oil and vinegar to make the handle squeaky clean!
3. Silver Plated Door Handle
While silver-coated or sterling door handles are the most stunning addition to your home decor. They are also prone to harboring germs and getting tarnished over time. You can clean door handles regularly using store-bought cleaning agents. But if you want to take a DIY approach to cleaning, here's how you can do it!
Method
Take an aluminum tray (commonly used for casserole) and fill it with boiling water and one cup of baking soda. Let your silver door handles dip in the mixture for a while. Take them out, and wipe them with a microfiber cloth. Fix the handles back into place and enjoy germ-free, sparkling handles until the next cleaning session!
4. Pewter Door Handle
Although not the most popular, pewter door knobs nevertheless require some care. Because of their susceptibility to tarnishing and wear and tear from frequent use. To disinfect and clean pewter handles, mix salt, vinegar, and flour and apply the mixture on the handles. Leave the paste for an hour, rinse with warm water and polish it again, bringing the handles back to their original glory!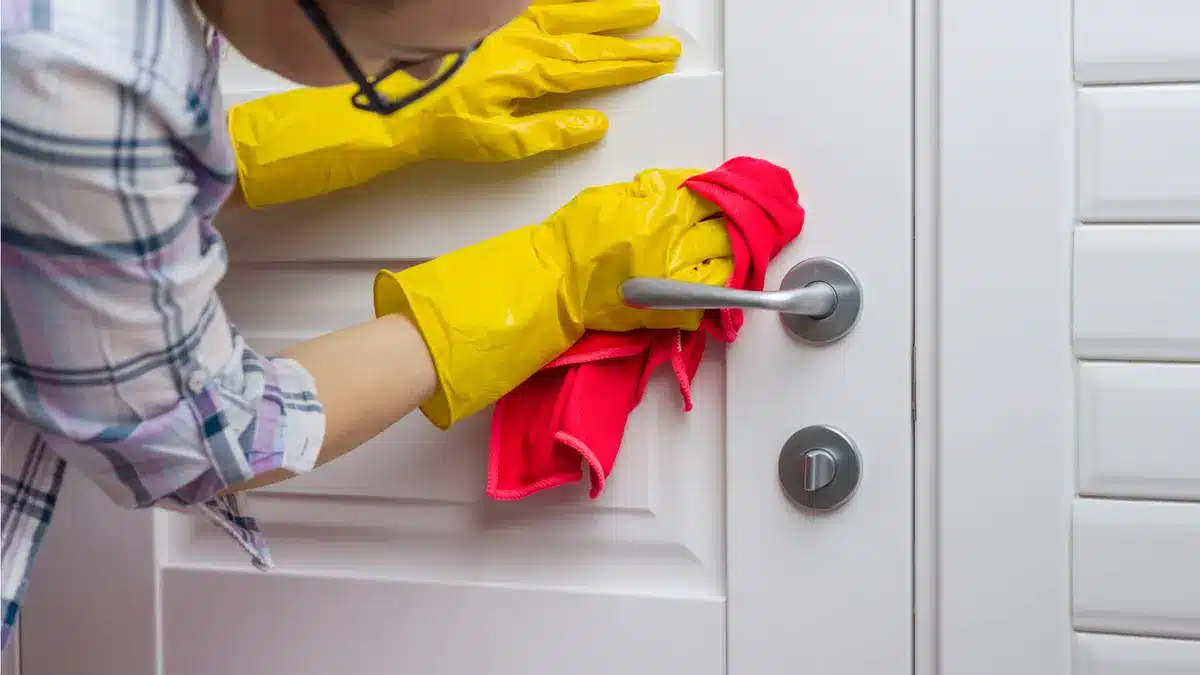 Leave the Cleaning to the Experts!
Door handles are one of the most common places for dirt and dust to accumulate. They're also a frequent point of entry for unwanted pests, germs, and bacteria which can mean messy jobs like pest removal. If you want to get rid of the grime and germs on your door handles, you'll need to clean them thoroughly. Book cleaning service online has never been easier. Get an instant quote and book your cleaning now.

But clean door handles require attention at the right time to protect the handle's material during the cleaning process. Cleaning these door handles also requires special equipment that is available to cleaning experts like MyCleaningAngel. Your one-stop solution for cleaning door handles and other door hardware.
We are a team of vetted professionals who have experience spanning decades. Giving us the right expertise to handle any kind of door materials that are installed in your home. So you can rest assured that your space will be free of unwanted germs and bacteria!